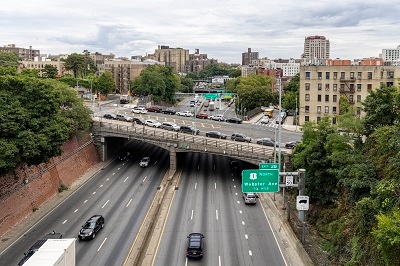 The Cross Bronx Expressway stretches across the borough as part of Interstate 95 (I-95). Constructed between 1948 and 1972 under the public builder Robert Moses, the Cross Bronx divided the borough in a way that displaced residents and separated communities.
It is currently one of the most congested American interstates with some of the highest rates of traffic and collisions, and neighborhoods surrounding the corridor experience some of the worst health issues in the city.
In December 2022, NYC Mayor Eric Adams kicked off a landmark study to Reimagine the Cross Bronx. The U.S. Department of Transportation (USDOT) is funding this study with a $2 million grant as part of the Rebuilding American Infrastructure with Sustainability and Equity (RAISE) program. 
Reimagine the Cross Bronx to help improve the corridor by:
Identifying strategies to increase more sustainable travel modes

Improving access to open space

Increasing safety

Improving freight management
This study will inform future planning decisions on the Cross Bronx Expressway.
Our Partners
There are many ways to get involved in Reimagine the Cross Bronx. Here are a few groups that will convene to gather feedback from the people that live and work near the Cross Bronx: 
Community Working Group
The Community Working Group is a collection of organizations and leaders who represent the voices of the communities along the study area.
The working group advises the NYC Department of Transportation, NYC Department of City Planning, NYC Department of Mental Health and Hygiene, NYS Department of Transportation, and project consultants on the study's processes and engagement efforts.
Group members help spread the word about upcoming events, gather feedback, and share information between the communities and the study team.
To follow up on the study's recommended projects, the working group will continue to meet after the study report is submitted to the Federal government.
Community Partners
Community Partners advise on and improve transparency around the public engagement process.
As part of the Reimagine the Cross Bronx Study, the project team is working with consultants-comprised of AECOM USA, Arch Street Communications, Fitzgerald & Halliday, Inc., and TRIP Consultants Corp.-to select community-based organizations to serve as Community Partners throughout the study.
Selected organizations will receive up to $25,000 between September 2023 and December 2024 for work that is directly in support of engagement around the study. Organizations will enter into agreements with the consultant team and be responsible for producing agreed upon deliverables in a timely manner. 
These partners include groups that serve a range of underrepresented communities and specialize in multilingual engagement to ensure that communities historically left out of conversations about the future of the Cross Bronx can participate in this effort. To expand outreach even further, some of these organizations will also partner with other groups in the area at the grassroots level.
Community Partners include: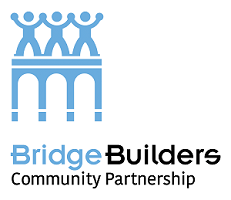 Bridge Builders Community Partnership (BBCP) was formed in 2003 with the mission of partnering with community residents, service providers, educators, businesses, non-profits, government agencies, and other stakeholders to form effective community networks and services in order to strengthen and increase the well-being of families in the Highbridge Community (HC), Community District (CD) 4. BBCP's vision is to build a networking infrastructure whose synergistic abilities enhance the quality of life for all residents of the HC.
Over the past nineteen years, BBCP has been the "backbone" organization of the HC and engaged over 80 partners in community organizing, managing and coordinating community education events, and recruiting and training community leaders. BBCP's grassroots efforts, storefront location in the heart of the community, and staff, who have firsthand experience with the challenges faced by the populations served, gives them a unique foothold in the HC to reduce poverty and increase the quality of life. As a storefront, BBCP encourages neighborhood residents to drop in, seek advice, and gain access to community and government services. BBCP makes approximately 5,000 contacts with families each year through staff members who spend much of their time interfacing with the community, conducting child-welfare-related home visits, and providing clients with services and comprehensive referrals. Last year, BBCP held 104 conferences, supervised visitation services for 33 families, and helped 28 kinship families.

The Bronx River Alliance serves as a coordinated voice for the river. We work in harmonious partnership to protect, improve and restore the Bronx River corridor. The Bronx River Alliance's goal is to make a healthy ecological, recreational, educational, and economic resource for all communities through which the river flows. The Alliance works in close partnership with New York City Parks as well as dozens of community-based partners, regional nonprofits, businesses and all levels of government.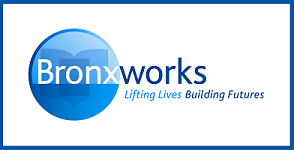 BronxWorks helps individuals and families improve their economic and social well-being. From toddlers to seniors, BronxWorks feeds, shelters, teaches, and supports their neighbors to build a stronger Bronx community. In all aspects of their work, BronxWorks strives for the highest ethical and performance standards. BronxWorks is guided by the belief that people must be treated with dignity and respect, regardless of their present situation or past experiences.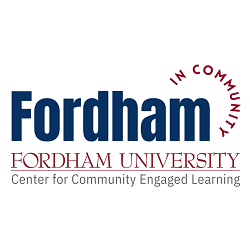 Fordham in Community (FIC) is a robust collective comprised of over 30 community-based organizations, cultural institutions, service providers, and grassroots initiatives that operate in the Fordham area. FIC meets regularly to discuss local needs and potential collaboration areas, with the goal of enhancing community outreach and attracting additional resources for the benefit of the local communities. FIC's mission, guided by the Center for Community Engaged Learning at Fordham University, is to bridge Fordham University with the neighboring communities and global partners through experiential learning, research, and civic engagement. To do this, FIC utilizes the power of collaborative work to increase local awareness of the resources and services available in their communities.

A community health agency based in the South Bronx, New York, Health People uses groundbreaking peer-to-peer education, innovative program curricula, instructive workshops, and referral relationships with other service and health care providers to empower program participants to lead healthier, safer and more productive lives. The mission of Health People (HP), originally founded in 1990 as a women's AIDS peer education and support program, is to empower and train residents of communities overwhelmed by AIDS and chronic disease to become leaders and educators to effectively prevent ill health, hospitalization and unnecessary deaths. Health People has achieved extraordinary success in demonstrating that community members representative of the South Bronx—including those with HIV, chronic disease, mental health issues, recovering from substance abuse and lacking a high school education—can become effective peer health educators.

Since 2005 I Challenge Myself has provided fitness and cycling programs in NYC public schools with the goals of strengthening minds and bodies while connecting students with civic engagement, college access, and career opportunities. I Challenge Myself has partnered with NYC DOT for the past six years in engaging students in upgrading their built environments to elevate their school and personal communities.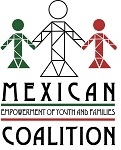 The Mexican Coalition for the Empowerment of Youth and Families has been supporting the Latina community in New York. Each year the Mexican Coalition helps more than 18,000 families. Most of them are immigrants and essential workers. The Mexican Coalition's mission is to develop the individual, organizational, and community capacities that will enable Latinos and Mexican Americans to realize their full civic, cultural, and political integration into American society. The Mexican Coalitation is an equal opportunity employer.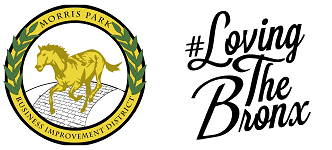 The Morris Park Business Improvement District is a 501c3 non-profit organization with the mission of enhancing the Morris Park Avenue commercial corridor community by providing supplementary sanitation, beautification, safety and district marketing services, to support a thriving and vibrant neighborhood in the Morris Park neighborhood of the Bronx.
Loving the Bronx is a grassroots group advocating for community-building, development and organizing around social and environmental issues through the use of parks, open spaces and waterways throughout the Bronx.

New Settlement is a community-led, mission driven Settlement House. For more than 30 years New Settlement has worked together to build the resilience and aspirations of the youth and families of the Southwest Bronx by delivering award-winning programs in after-school education, workforce development, college readiness, health and fitness, and member-driven community organizing for better housing and safer schools. Rooted in the Bronx, New Settlement stands with community members to break systemic barriers, advance justice, promote leadership and strengthen neighborhoods. By ensuring agency around education, employment, housing, wellness and creative expression, New Settlement helps cultivate an equitable society where individuals and families have the power to use their voice to create the change they wish to see.

The mission of Youth Ministries for Peace & Justice (YMPJ) is to rebuild the neighborhoods of Bronx River and Soundview/Bruckner Boulevard in the South Bronx by preparing community members to become prophetic voices for peace and justice. YMPJ accomplishes this through political education, spiritual formation, youth development, and community development and organizing. YMPJ's mission includes providing assistance to low-income immigrant communities in need of legal and social services to assist them with obtaining citizenship and becoming self-sufficient members of the Bronx community, in addition to organizing the community to act in ways that benefit their interests. YMPJ currently offers direct services to their community for individuals and families seeking entitlement benefits and/or immigration-related services. YMPJ also offers programming and runs campaigns that tie into all aspects of their mission and goals.
Technical Focus Groups
Technical Focus Groups are organizations that bring subject matter expertise on issues that are relevant to Reimagine the Cross Bronx, such as regional transportation, transit, air quality, public health, and structures. Technical Focus Groups will be convened later in 2023.